7 Creative WordPress Themes For Web Design Agencies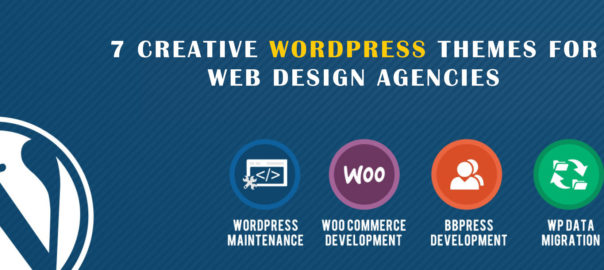 Creativity is at the heart of any sound marketing campaign. More often than not, the difference between competing products is insignificant. Both items will use the same ingredients and go through the same manufacturing process. The difference in price is usually justified by the brand itself.
Creative agencies can help you construct that brand, improving your company's public perception. However, even a good creative agency might need help with WordPress development. This need is further accentuated by the lack of resources, as startups rarely have the funds required to hire a web development company.
Thankfully, networks such as WordPress provide fertile ground for innovation. They host entire communities of highly competitive theme developers, each struggling for a place in the spotlight. Your site can be enhanced and remodeled by one of these themes. New capabilities and a pleasant aesthetic design, is what awaits those who decide to purchase a quality Creative Agency WordPress theme.
In terms of price, WordPress products are relatively cheap. Considering a large number of practical features, and streamlined programming, you will be getting a good bargain. That being said, let's take a look at some of the best WordPress themes for Creative Agencies:
Uncode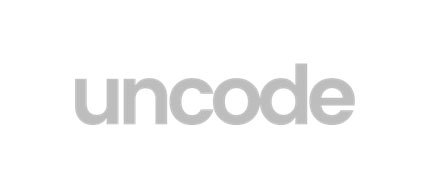 Uncode is top-down, conceptually designed, original and innovative, elegant and stylish, polished and professional, attractive and appealing, imaginative and flexible, technologically dexterous and profoundly functional and feature rich responsive WordPress creative multi-concept, multipurpose website theme. It's an extremely thoroughly developed theme, packing the raw strength and sheer ductility to effortlessly service an enormously vast range of website archetypes, but owing to its amply customizable and one of a kind nature, is peculiarly well suited for creative agencies, digital design studios, freelance artists, designers or photographers, marketing agencies and any kind of related or similar professional or commercial website that needs a place on the internet to call home that is flexible and powerful enough to allow to fully showcase their creative skills in a myriad different ways with virtually no bounds.
Uncode is based on a powerful Bootstrap framework and incorporates CSS3 dynamic scripting, HTML5 elements, Parallax visual and scrolling effects as well as AJAX filtering, making it vastly potent and significantly versatile in terms technical prowess, as well as the Visual Composer enhanced to new heights with a wealth of add-ons and custom options to make the process of building your website a simple, effortless task with professional quality results every time.
Jevelin

Jevelin is a user-friendly and flexible, resourceful and responsive WordPress premium multipurpose website theme. This theme has been packaged with a polished set of tools to help webmasters of any experience level. Jevelin helps in efficiently crafting unique, functional websites. Jevelin works well across a spectrum of applications and website archetypes. It's a very modern and intuitive platform. It features a completely visual customization process through advanced admin panel settings. Within a few clicks, you can utterly alter Jevelin's entire look and feel to suit your needs.
You are also able to choose from several different demo websites with just one click. Each demo comes fully outfitted with inner pages, sections, and modules. You'll also find sliders, footers, headers, and everything you can think of. They are just waiting for you to make them your own in terms of layout and graphical detailing. You'll find over 40 unique, custom-crafted shortcodes within Jevelin and you can drop them into the action with ease. They add levels of resourcefulness to any page in an instant. Highlight your finest products and customize your gallery showcases. Create gorgeous Revolution Slider slideshows without writing a line of code. With Jevelin at your side, nothing can stop you!
TheGem

TheGem is an engaging and enticing, visually stimulating and malleable, professional and polished, responsive WordPress creative multipurpose website theme. It's a robust platform for the development of all sorts of beautiful modern websites in a speedy and uncomplicated manner and with plentiful freedom for visual and creative styling. TheGem is a colorful theme fit for creative individuals who have a lot to express and need an eloquent, visually complex and capable platform from where to say it.
TheGem is packed with over 250 customization settings for over 60 elements available within the included Visual Composer premium page builder plugin, while 40 conceptually conceived demo websites complete with their inner pages and 150 unique page templates wait for your content within TheGem. From blogs with unusual, creative layouts to breath-taking image galleries and immersive portfolios, TheGem knows how to lure users into your content effectively, guaranteeing the utmost appeal to your website and improved traffic all over, particularly considering TheGem's robust SEO enhancements, which greatly improve search engine performance. With a total integration of the WooCommerceeCommerce plugin suite, TheGem is a capable salesman, and you can market your creative products directly from your TheGem website with absolute ease and speed. Try TheGem now!
Kalium

WordPress has a large collection of quality themes, but few can match the versatility of Kalium. This product can guarantee a superior browsing experience for you and your followers. It includes high-resolution Retina icons and images, as each item's compatibility was tested many times.
Your content will be completely responsive, capable of adapting to screens of all sizes. Mobile device users will also benefit from touchscreen capabilities. Kalium allows clients to construct awesome online stores via the WooCommerce plugin. It features a high-quality AJAX shopping cart and an eye-catching design. There are many individual layouts for your shop's products, as you get to use simple or carousel images in order to showcase your selections.
This theme has several professional animations for the cursor's hover effect. The feature promises to enhance your site's aesthetic appeal, and improve its overall quality. Regardless of your site's niche, a blog can increase your view count. It allows for better public relations, as the owner can detail his activity. Kalium offers several format variations for your blog's layout. From start to finish, a fully functional website can be set-up via the One-Click Installer. This premade content includes jaw-dropping posts, pages, sliders, theme options, and widgets.
Oshine
Oshine is a flexible and versatile responsive WordPress creative multipurpose website theme. This theme is a flexible framework for creative users to build intriguing new projects. No coding skills are necessary to make the most of Oshine. The amazing Tatsu frontend page builder empowers webmasters to customize everything visually. Powerful section concepts and over 50 styling modules let you shake things up a bit, or a lot. No two Oshine websites are alike, which is why creative agencies love working with Oshine.
Servicing a range of clients has never been easier, with dozens of polished demos and page layouts to start things off. Cutting-edge tools and advanced plugins provide all the functionality your clients may need. Asynchronous and On Demand loading of javascript combined with HTML5/CSS3 technology ensures top performance and speed. Beautiful Parallax animation, conceptual sections, and gorgeous portfolios bring your content alive.
Stash

Stash is the best WordPress theme out there for all creative experts! It's a multi-concept tool that reaches professional audiences. With over 48 demos/homepages, its flexible design requires no coding at all and offers tons of visual focus. A child theme is also available to use! It's made for a professional approach, so agencies can get a handful of it. It uses the one and only Visual Composer page builder to drag & drop.
Stash is focused on visual layout display such as strong typography and Parallax. Creative elements include customizable backgrounds with multimedia and pattern arrangement. You'll find the CSS3 animations completely available and supported! It's SEO-optimized and runs with speed at its peak, while also being adaptable to multilingual needs with WPML and RTL functions. Show an incredible display with Font Awesome icons integration and unlimited colors to mix. Get potential clients contacted with its Contact Form 7 integration. Regular updates are always on the way. Give it a go and enjoy imagining your future agency officially exposed!
Massive Dynamic
Massive Dynamic is a plenty powerful, solidly secure, incredibly imaginative, readily responsive WordPress creative multipurpose website builder. It has been developed as a true multipurpose website builder, with the capacity to handle the most complex design and creative website building tasks without batting an eyelid, regardless of the nature or industry of websites involved. And with the uniquely powerful, real-time Live Website Builder, it really is no wonder. Combining the strengths of heavily customized plugins such as Visual Composer, Revolution, and Master Sliders, WooCommerce and Go Pricing, among several others, the Live Website Builder allows you to fine-tune all settings, deploy and configure all 70 shortcodes, and modify and edit your layouts in-depth, with a live preview.
With such tools, along with breakthrough online commerce layout templates and immersive business and commercial page templates for pricing plans and staff, not to mention vast, expansive portfolio capabilities, templates, and features, Massive Dynamic is a natural fit for marketing agencies. Price your services in sleek modern presentations, present your staff, showcase your finest works and highlight them just right with the unique Portfolio Live Rearrange feature. Dress to impress your audience and potential clients, every time, with Massive Dynamic on board!
Author Bio:
This guest post was written by Hassan Khan Yousafzai, he is passionate about Digital marketing. Along with an educational background in Software Engineering, he is bridging gap between marketing and development department. At Techvando , he has been consulting brands all over Pakistan to gain online traffic and profitable leads.