How to make money from google Adsense ?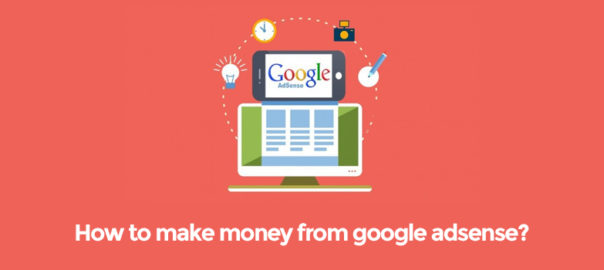 Working online has become a fashion lately and most people are giving up their conventional jobs to do the same. Did you know that countless users in fact are making a living out of the online income? If you have tried to search ways to earn money online then I am sure you must have read about Google AdSense by now. It is a free service offered by Google for publishers to earn money through their web content. Here a publisher is anyone who has a blog, website or channel online.
AdSense is one of the best and easiest ways to make additional money from your website. You need to copy the code they provide into your site so that ads start displaying, and you earn every time someone clicks on it. You may also earn from impressions in some cases. This can be done through Adwords. Now, AdWords is a pay per click system that allows you to bid on keywords which matter. The results show up in the Sponsored Listings on top of Google.com. These are usually sponsored results and advertisers usually pay a certain amount of the money per click for these ads. AdSense is the revenue you earn from AdWords ads. When someone clicks on these ads, you earn almost 68% of the click and Google gets the rest.
If you are new then know that getting started with AdSense is easy and you need a blog or Youtube channel to get an AdSense account. Once you have an account, all you need to do is create ads and place the code they provide on your blog using the tools, and AdSense will soon start to display ads. Now, when a reader clicks on those ads, you will earn money from it. Next your goal should be to get traffic to your blog and the more traffic you get, more income you will generate.
AdSense is an auction based system that allows advertisers to compete for top spots. Whoever has the best ad and highest bid, gets the top spot. AdSense can help the website to make some additional income, and it is best for websites that rely on content. The better quantity and quality of content you have, the more Google can understand what your site is about and better match the ads to your website. AdSense does not guarantee a way to get rich quickly and it takes a lot of hard work to make money. One must also have patience for this. The commission you receive depends on how much Google is getting from advertisers for the particular ad.
The amount you will earn also depends a lot on the traffic you receive to your own site, how well the ads match your viewer's choice, the way the ads are placed on the pages, and of course the amount you receive per click. So it is best you create a site on a topic you know a lot about and have good quality content. This will lead to interest among people and will increase traffic which in turn increase the clicks you get.